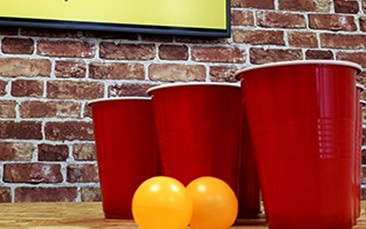 "Beer pong?"
"Oh no, we're ladies don'tcha know?"
Do you love the thrill of the game? Are you known for having a competitive streak? Want extra laughs and something a little bit different for your big weekend? Then may we present…
Prosecco Pong!
No? Then how about?
Gin Pong!
The action takes place at one of Newcastle's most popular venues that is renowned for good times. And this is not your average bar, the retro 70s décor that is part disco, part lounge lizard and is as wacky and fun as the game itself. It also has a fantastic cocktail menu. Big colours, big tunes, big fun.
The game itself is pretty simple and is based exactly on the ever-popular beer pong but because you're ladies with class and taste we've switched in a couple of your favourite tipples. This is something altogether more genteel but equally as fun.
Prosecco Pong
3 x Bottles of bubbly
1 x Vodka & Red Bull each
Pong table (maximum 10 hens per table)
Reserved area
Gin Pong
1 x Bottle of Newcastle Gin
8 x Cans of Ting
2 x Pitchers of vodka with Red Bull
Pong table (maximum 10 hens per table)
Reserved area
(prices vary depending on your choice of drink)
Great drinks, great music, amazing party atmosphere and a fab game, this is exactly how it should be done on your Newcastle hen do. All the girls will get to play and each table can accommodate up to 10 hens (larger groups can have more tables, 11-20 guests require two tables, 21-30 for three tables).
Once the girls have been split into teams, the first drinks consumed and everyone had a quick warm-up throw it's then time to let battle commence. Of course, this is essentially a drinking game so all the girls will get to enjoy a tipple or two during the course of the action. We'll drink to that!