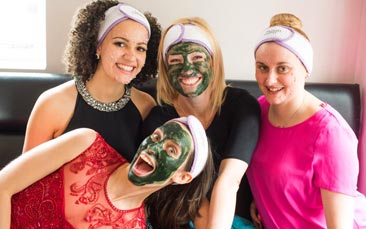 Our 2-hour party brings everyone together around the table with champagne or smoothie in hand as they learn how to create bespoke face masks and beauty treatments using 100% natural ingredients such as honey, avocados and strawberries. It is a wonderful ice-breaker for when all the hens arrive, a great party for the evening or the day, and will get you all ready for the big night out... or can act as a decadent way to spend a special, pamper night in.

It's an experience that will get everyone chatting and laughing whilst learning just how effective natural treatments can be. We can bring the party to the comfort of your accommodation or help arrange a venue for you. You will learn loads of great tips to help you take care of your skin the natural way and may never have to spend money on expensive beauty products again.

Treatments are designed to suit all skin types and are simple to make... yet incredibly effective.

Each hen will also receive a delicious super-smoothie and have use of the bubbling foot spa. The party ends with a simple, fun and relaxing yoga and meditation session which everyone will participate in.

Healthy, informative, fun - and certainly fruity! - this session is a great way to not just have a great experience with the girls but also learn some fantastic skincare techniques. We guarantee you will leave the party with glowing skin, feeling positive, pampered, inspired and with a new understanding of what real beauty is.

The session includes:
A beautiful spa station for each guest
Seriously bubbly foot spa machines
Aromatherapy candles to create the perfect atmosphere
Individual robes & headbands
A delicious, fruit loaded super-smoothie for each hen
Recipe card to take home
30-minute fun yoga and meditation session
Natural skincare treatments and masterclass
Why not add...?
You are able to add vintage afternoon tea to your package - please speak to your account manager for further details.
You are also able to book a price-reduced 90-minute session version of this activity that just includes the 100% natural facial. Please ask your account manager for details.