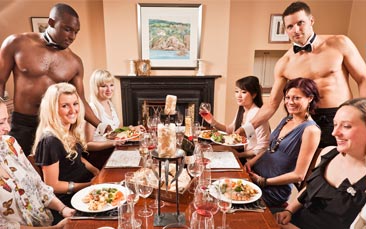 They say "the first bite is with the eyes" and never has that been more true than with our devilishly delicious Naked Chef hen party experience.
No the "Naked Chef" isn't the bloke on the telly who makes "pukka tucker" and stops schools from serving kids burgers. Here at GoHen when we say "Naked" we mean "Nekked!". Our Naked Chefs are gorgeous models who will arrive and whip off their kit before whipping up a delicious pre-wedding feast for the bride and guests.
Yep, this is something to really get all the hens' mouths watering, fine dining brought to your hen party self-catering property. After all, no one really wants to get stuck having to do all the cooking when you could be having fun. Not only will our hen party naked chef serve some delicious food, but after the meal, the naked butler will lead the girls in some hilarious hen party games.
All the meals will be prepared in the kitchens and the work surfaces and equipment used for preparation and serving will be cleaned down afterwards. So all the girls can relax and enjoy the scrummy food and delicious service. Yum!
Hens can choose from:
Naked Brunch
Naked Lunch
Naked Dinner
Naked Dinner - Premium Menu
At the end of the meal, the bride-to-be and her well-fed friends can leave the washing up and head to town enjoy the local nightlife.