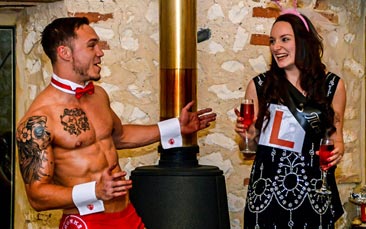 "Drop 'em boys!"
Yep, with our fantastic hen party Naked Brunch you'll be served mouth-watering dishes by a mouth-watering dish! Our hen hunk will be buffed and bare (some parts will be hidden for modesty!) he'll be happy to ensure all the hens are well fed and glasses are kept topped up while you rest and relax in your self-catering hen party accommodation.
As well as our hunk to serve you (1 x hunk for 19 hens, 2 x hunks for 20+ hens), a professional events chef will be preparing a superb brunch. He'll arrive first to prepare your meal and your hunk will arrive closer to service staying for a 2 hour period. The chef has no time limit and will stay until all the food has been served, cleared and all the surfaces are as spotless as when he arrived.
It's definitely something to put a cheeky smile on all the hens' faces and even better if it's a surprise.
Brunch Menu
Selection of Fresh Juices
Fresh fruit
Italian meats & cheese
Warm croissants & condiments
Choice of:
Grilled Flat Mushroom - Served with scrambled eggs on a toasted English muffin
Egg Royale - Served with smoked salmon on a toasted English muffin with Hollandaise sauce
We'll need to know all the hens' preferences in advance to ensure the chef has the correct ingredients for your party. But this is most definitely a wonderful way to start the day and will help keep the hens smiling all day long.
Bon Appetit!