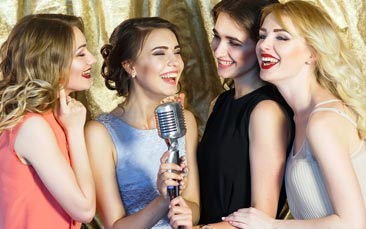 Calling all the "Single Ladies" ... or married ladies. In fact, it doesn't matter whether you have moves like Jagger or want to get a bit of uptown funk, music-loving hens can finally shoot the proper video they've always dreamed of.
Ok, don't look at us like that, you know what we're talking about. Those hours spent in front of the mirror with your friends, hairbrushes in hand, recreating your favourite videos (do the words "Spice up your life" ring any bells?).
You can choose any song you like (ABBA, Beyonce . . . Jedward) then a choreographer will meet you and put you through your paces. You'll have a quick warm-up and then you'll start learning the routine. All the hens will be involved, taking different parts depending on the song you choose.
You're welcome to wear costumes or dancewear, there will also be props and accessories to accompany your choice (where applicable). Once all the girls have the routine and your dance crew/cast/girl group have the moves down tight, it's time to start shooting. Typically videos are shot in private bars and studios in keeping with your chosen song. Scenes can also be shot outdoors, maybe even in the city centre. The choice really is yours. "Fame, I wanna live forever..." (probably best not to go dancing on taxis, though).
Some songs work better than others and our team will be happy to help you pick the best song for your video.
Videos take a maximum of three weeks to edit and be sent out to you. It's the perfect way for the bride-to-be to remember a fantastic weekend.