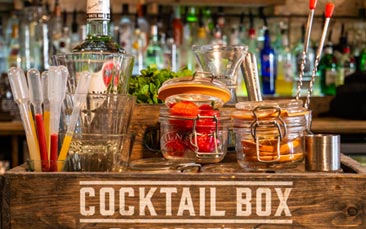 Sorry S Club, we love you, but we're just not in love with you, and while we're sure you do throw a bloomin' good gathering, our favourite kind of party has to be the mojito party.
This is a fantastic way to get your hen weekend dancing in the aisles. You'll arrive at one of our superb venues where you'll be welcomed by the staff and waved inside. Here you'll find an area already reserved for you. And here begins a night that could possibly go down in hen party legend.
A mystical 'Mojito Box' will be given to your group. It really is a party in a cube. Inside the box of boozy wonders, you'll find:
A bottle of Bacardi
Ginger
Mint leaves
Mojito instruction manual
You can then get mixing, sipping, dancing and laughing as you become your own cocktail barmen. Yeah, move over Tom Cruise, we got this. The venue itself is fantastic, with a buzzing atmosphere, live DJ, top tunes and other like-minded party people. You can also add other elements to your evening including a variety of drinks packages and a tasty hen party meal. Please ask our team for more details.