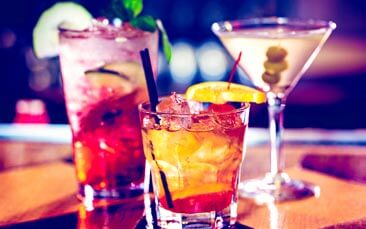 Ahh cocktails, one of life's great joys and no hen party is complete without them. But now you don't need to go to the bar, you won't need to flirt with the barmen, you can simply mix your own with a fantastic mobile cocktail class.
What's more, the whole event is tailored just for you, you can select a theme for the drinks (Mexican, rum-based, tequila drinks, vodka, etc) AND the mixologist will create a totally bespoke drink in honour of the bride-to-be.
A fantastic mixologist (yes, that is a real job, who knew?!?) will come to your self-catering accommodation and teach you all the tricks of the trade. He'll set up a whole mini cocktail bar with everything you need to whip up some hen-tastic drinks.
The session will start with a little welcome drink (bottoms up!) and then it's down to work, the mixologist will show you each drink and then it's your turn to reproduce it, of course, its vital that you taste the drink as you mix, purely for 'quality controls' purposes (ahem). You can also ask our knowledgeable bartender about your favourite cocktails and drinks. They have heaps of boozy knowledge which they're happy to share to help you mix up a storm at your next party or summer BBQ.
The session also includes a team competition to see who can create the best drink. Some might say it's a matter of taste, others argue it's about knocking out the taste buds with copious amounts of alcohol, all we know is, it's brilliant fun and will provide a massive amount of hen party giggles.