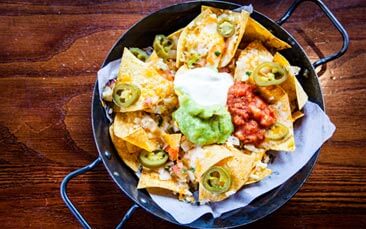 This isn't your average Mexican restaurant, in fact, it's more of a whistle-stop tour of the culinary culture of the South American continent with dishes from Peru, Chile, Mexico and Brazil. And that's before you've even started on the drinks menu!

Those sexy Latin American's do everything with passion and that is certainly true of their cooking. The range of flavours, textures and melt-in-the-mouth goodness on offer will put a smile on every hen's face. The menus are varied, offering plenty of choice for both vegetarians and meat-eaters so no one will feel left out.
Dishes such as Fajitas, chilli, enchiladas, burgers, chicken wings, tacos, quesadillas, fresh salads, cheesecakes, rich chocolate churros... Mmmmm... You'll also find a selection of drinks from around the world and if you've never tried Brazilian cachaca we really think you should. Order a round of caipirinhas or Latino cocktails and raise a glass (or two) to the bride-to-be.
Our hen party Mexican restaurants all have superb decor, lively atmospheres and great South American music, we also ensure they're close to the best of the action, so you won't have to go far to the next bar or club.

Organisation is key, no hen parties want to waste precious dancing time trying to find a restaurant that will take a large group of hens at short notice. GoHen will have everything pre-booked and prepaid, so at the end of the meal you won't need to do a Rachel Riley on the bill, simply bring a little extra money for your drinks.

It's a fantastic way to start your night in style with great food fabulous drinks and fantastic friends. "Vamos a la fiesta!" as they say on the beaches of Playa del Carmen.
Please note: menus are seasonal and may differ between venues, please ask for exact details at time of booking.