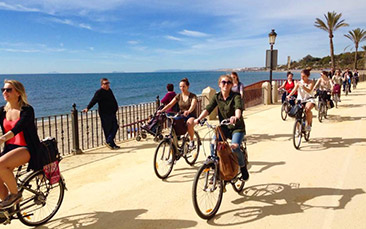 Forget about an overcrowded, boring bus tour. You're in Marbella, one of the party capitals of the world! If you and the girls are going to take a tour of the city, you're going to do it in style. Well, with the Marbella hen party wine and tapas bike tour you'll be able to breeze about the city at your own pace, checking out all the amazing sights, whilst enjoying a spot of delicious Spanish tapas along the way, and, most importantly, some delightful wine. "Ah, a tour I can finally get on board with!"

On arrival, your English-speaking guide will show you your bikes which will be your trusty steeds for the day. You'll then head off on your tour of the city!
The sights:
Marbella Old Town
Mediterranean Coastline
Moorish part of the city
How long you spend in each place is entirely up to you. There's nothing worse than stopping in a great location and then being hurried along by a guide. If you and the girls are loving one spot, you can just spend less time in another one later on. The guide will always ask the group what they fancy doing, but you'll stop at least one wine and one tapas bar for your complimentary beverage and food! "Well, if we must! Barman, uno vino, por favorrrrr!"
Throughout, your guide will tell you interesting facts about each location as well as about the cuisine. There'll be various tapas options on offer (fish, meat and veggie) to keep you going as you cycle about the city, and if you want to pitch up in more than one bar (and I'm guessing some of you will) that's absolutely fine. Your tour will be catered to suit your group so you can get maximum enjoyment out of it.
After you've finished your tour of this stunning coastal resort, you'll be ready and raring to carry on the party. Be sure to throw our amazing Bar Crawl into the mix to keep the fun flowing. Contact a member of our team today for more info.