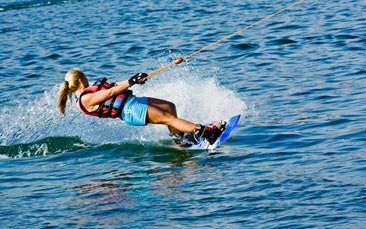 Get set for one of those truly precious perfect days. This amazing site has everything you need to make perfect hen party memories. The 'lazy day' boho vibe is carried through with top tunes and summer scents drifting across from the cafe and grill. If the heat is getting to you, you can cool off in the bar, relax on a sun lounger or visit the cocktail bar.
But the action is all to be found out on the water. And it's a lot easier to learn than you might have thought. The site operates using a cable training system rather than boats (there are actually 5 cables in total so no long queues waiting to hit the water). You can start using kneeboards or bodyboards before progressing onto waterskis or monos.
Considered to be one of the best cable ski sites in Europe the fantastic summer party atmosphere really does add to what is sure to be a great day out.
Wakeboards are also available (at an extra cost).
You can also try Paddleboarding. Ask our team for more details.