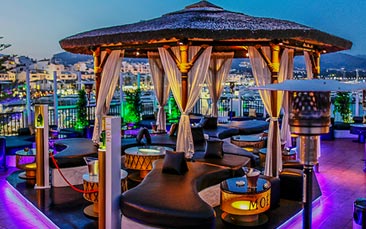 This is the bride-to-be's big weekend, she deserves the very best and just like you, at GoHen we want to help make it a night to remember. That means only the best is good enough.
Pangea is situated at the far end of the Puerto Banus offering amazing views of the port and glamorous yachts. On the streets, valets park Porsches and Ferraris with many celebrities gracing this venue such as LMFAO, Chris Brown and the TOWIE cast.
We'll arrange guestlist entry for your entire party at what is simply the most sought after venue in town. No queues, no fees, no fuss. You'll be greeted on arrival and shown to your own VIP table where two bottles of spirits will be chilled and waiting for you. You can then party under the stars, quite often with the stars and this is definitely one of the biggest tickets in town attracting top international DJs such as Colin Francis.
The venue has a state-of-the-art sound system and the fantastic location means you can party under the stars while overlooking one of the most glamorous backdrops in Europe. Pangea is the place to see and be seen and a must for any sophisticated hen party.
Top tunes, guest DJs, drinks deals and VIP treatment. Ladies, it's time to party!