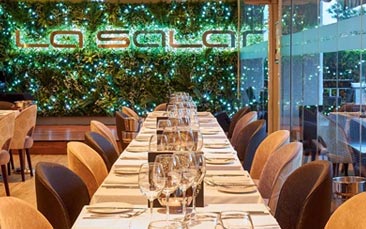 It's one of the most glamorous venues in Marbella, the place people go to see and be seen with some amazing eye candy for all the girls to enjoy.
It's also perfect for a bit of celebrity spotting and has hosted illustrious guests such as Jamie Oliver, a man who definitely knows his food ("...bish bash, bosh...").
You'll be given a glass of bubbly on arrival and shown to your table before enjoying a stunning menu...
Please note: Groups of 13 or more are required to pre-order
This is a sample, seasonal menu and actual dishes may vary
Starters
Fresh Calamari
Pil Pil Prawns
Traditional Prawn and Avocado Cocktail
Jumbo Tiger Prawns
Smoked Salmon Parcel
Tuna Tataki
Crispy Duck Spring Rolls
Steamed Dim Sum with a Trio of Dipping Sauces
Traditional Platter of Iberian Ham and Manchego Cheese
Chilled Melon with hand carved Iberian Ham
Fillet of Beef Carpaccio
Salad
Buffalo Mozzarella and Vine Tomato (v)
Caesar Salad
Crispy Beef Salad with Asian Vegetables
Chargrilled Mediterranean Vegetables (v)
Main
Fish
Tagliatelle Prawn Pil Pil
Seared Fresh Tuna Steak
Whole Fresh Sole Meunire
Grilled Fresh King Scallops
Pan Fried Sea Bass
Deep Fried Hake in Crispy Beer Batter
Pan Fried Cajun Swordfish
Meat
Chargrilled Sirloin Steak
Chargrilled Fillet Steak
Steak Tartare
Full Rack of BBQ Pork Ribs
Chicken Milanese
Crispy Peking Duck
Sticky Pork Belly
Braised Lamb Shank,
Vegetarian
Yakitori Noodles with Asian Vegetables
Vegetable Thai Green Curry
Courgette Spaghetti
Desserts
Baked Apple and Pear Crumble
Crme Brlée
New York Cheesecake
Sticky Toffee Pudding
Duo of Chocolate Brownie
Iced Berries
Fresh Fruit Platter
Cheese Plate
Selection of Ice Creams and Sorbets