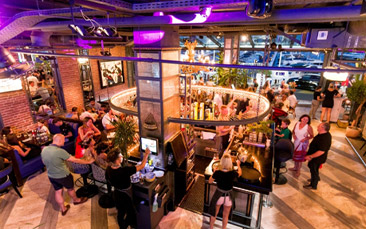 This is the taste of America and exactly how BBQ should be done. The food is slow-cooked by the pitmasters in wood-fired smoke pits to create deep, rich, American flavours. Your table will be waiting, you can pre-order your meals before you travel, so there's no waiting around.
At the end of the meal, everything is prepaid so simply head upstairs to the Manhattan loft-style cocktail lounge. There's a live DJ spinning beats and stunning views over Puerto Banus Marina as you sample drinks like the Banoffee Daiquiri, Hubbabubba or Fire Drop Margarita with habanero chillies!
Sample set Menus (choose a starter and main each)
Dixieland Menu
Starters:
Smoked Wings - Crispy fried chicken wings slow-cooked with hot sauce & blue cheese dip.
Roasted Red Pepper Hummus (V) - Served with herbed flatbread.
Smokin' Skins - Crispy potato skins, with garlic chive & sour cream, crispy bacon & smoked cheddar.
Mains:
New York Deli Burger - Angus burger, crispy deli bacon, cheese, tomato relish, pickles, ranch dressing & skinny fries.
Bean Me Up Burger (V) - Five bean burger, smoked chilli mayo, cheddar cheese & tomato relish.
Smokehouse BBQ Ribs - Fall off the bone ribs coated with secret BBQ sauce, coleslaw & skinny fries.
Chunky Chilli - Slow-smoked beef topped with cheese, corn chips, rice and beans.
Caesar Salad or Chicken Caesar Salad - Romaine lettuce, parmesan shavings, ciabatta croutons & Caesar dressing. Optional chargrilled chicken.
Southern Belle Menu
Starters:
BBQ Beef Quesadilla - Smoked beef, cheddar cheese, jalapenos, coriander, mixed peppers, spring onions, guacamole, salsa & sour cream.
Roasted Red Pepper Hummus (V) - Served with herb flatbread.
Smoked Chicken Nachos - Wood smoked chicken, habanero cheddar, baby jalapenos, salsa, guacamole & sour cream.
Mains:
Breaded Shrimp Basket - Jalapeno sauce and skinny fries.
Smokehouse BBQ Ribs - Fall off the bone ribs coated with secret BBQ sauce, coleslaw & skinny fries.
Jacks Smokehouse Burger (GF available) - Aberdeen Angus burger, smoky bacon, mature cheddar, baby jalapenos, crispy onions, BBQ sauce & skinny fries.
Jamaican Chicken Curry (GF) - Jerk-spiced chicken curry smoked mango relish, beans and rice.
Grilled Goat's Cheese Salad (V/GF) - Salad leaves, cherry tomatoes, sweet onion, candied walnuts, pomegranate & balsamic dressing.
Four Cheese & Caramelised Onion Pizza (V) - Gorgonzola, chilli cheddar, mozzarella & goat's cheese
Deluxe Smokehouse Set Menu
Starters:
Prawn & Lobster Cocktail - With lettuce & seafood dressing.
Cajun Fish Tacos - Charred corn, lime, coriander, jalapenos, avocado & sour cream.
Pulled Pork Sliders - Served with crispy onions, Granny Smith apple relish & mini brioche buns.
Mains:
Black & Blue Burger (GF Bun Available) - Angus beef with a blackened Cajun rub, blue cheese, red onion marmalade, pickles & skinny fries.
29-Day Dry-aged New York Strip Loin Steak - Choice of pepper sauce, smoked shallot gravy or parsley and jalapeno béarnaise sauce, served with green beans & fries.
Chargrilled Lamb Rack - Smoked potato mash, green beans.
Blackened Creole Cod - Cajun seasoned cod fillet, fajita-style sizzling vegetables, noodles, maple & smoked soy glaze.
Slow Braised Short Rib (GF) - Smoked shallot gravy & sweet potato mash.
The seasonal menus may be subject to change. You'll be sent the exact menu in advance.