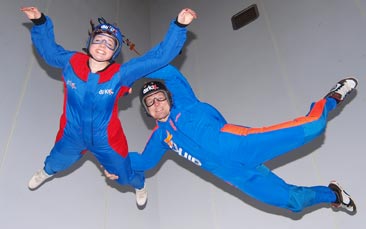 If you are the kind of hen who demands the biggest rush and adrenaline-fuelled experience, then our Indoor Skydiving activity in Manchester is a superb activity for adventure-loving hens.

Indoor skydiving works on many levels (see what we did there?), you get the extreme thrill of skydiving without having to do anything totally reckless, like throw yourself out of an aeroplane at 12,000ft. essentially Without the fear-inducing height to overcome or the inconvenience of having to be strapped to a professional skydiver's chest you are free to totally experience the rush of this amazing extreme sport. You'll even be able to pose for photos while in mid-air!

The technical side is really quite simple, you will be suspended above a jet engine in a vertical wind tunnel at speeds up to 120mph. It's like the world's most powerful hairdryer with you playing the part of a floating Malteser. It's utterly brilliant and with winds at that speed, it really will take your breath away.

This is a hugely memorable day that the nearly-wed and her chosen party will be talking about long into the cocktail hour.

Full tuition, training and equipment is provided for you - so no need to dust off your old jumpsuit. Each hen will get about two minutes combined flight time, which is the equivalent free-fall time of about 3 skydives each!