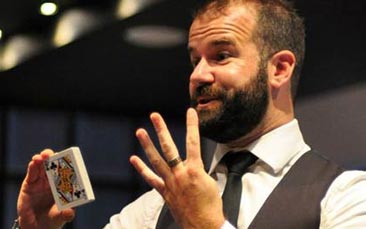 Whether you're a bunch of sceptic hens or you're all a little more open-minded, this dazzling array of tricks, illusions and theatre will have the hens captivated from the first minute to the last.

Our Bath hen party magic show is located in a memorable and atmospheric underground theatre that adds something truly special to the show. The hens will arrive and be guided downstairs before being surprised, shocked and utterly boggled by the theatres top magician.

The hens won't know what to believe after this astonishing display of trickery and sleight of hand; where do the tricks end and the magic begin?

Seating plans, cake tastings and flower arrangements will be the last thing on the nearly wed's mind as she's stood on stage playing the role of magician's assistant while feverishly trying to figure out how do they do it!?

Giggling and gobsmacking will unfold the second the magician starts, making sure the hens are suitably shaken up ahead of a big night out on the town (which we can also arrange for you if you'd like!). Dazzled and thoroughly confused, this fabulous night of masterful trickery will have the hens' heads spinning before they've even had a drink!

Get together at the end of the show with your magician for an incredible group selfie in the awesome venue to remember your night by.