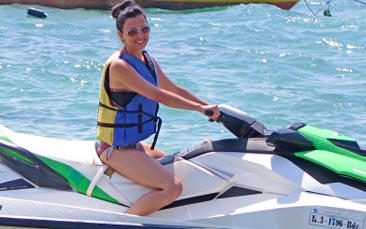 Some hens enjoy nothing more than relaxing by the pool, others want to be wrapped in seaweed and listening to whale songs. But if you really want to create amazing hen memories and do something totally different then you need action!
This fantastic hen challenge is all about adventure and is ideal for daring hens who are up for a challenge.
You'll be greeted by the friendly instructors, they'll give each hen a life jacket and make sure everyone is strapped in securely. Then it's time to meet the high-powered machines you'll be racing on. You'll learn the controls and have a practice session. Then you'll need to get your game faces on.
"Grrrr"
"I can't hear you!"
"GRRRRRR!"
That's better, once you're all feeling suitably competitive you'll take it in turns to race around a course. The hen who does it in the fastest time will be the winner.
This is a private area, so you don't need to worry about dodging around swimmers, you can go for the win. This is a great way to work on those wedding tans ready for the photos. At the end of the session, there's a bar for you to get 'rehydrated'.
One of our most exciting Magaluf hen party adventures that all the hens will be talking about for weeks to come.