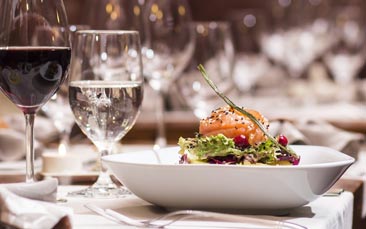 If you and the girls are looking for the perfect way to surprise the hen on her big weekend in the Spanish capital then this is an absolute must for you. Our Madrid opera dinner will see you and the girls head to one of the best restaurants in the city, pretty standard for a hen weekend, right? Wrong, because little does the bride-to-be suspect that the waiters are actually amazing opera singers!

Imagine her surprise when she orders a glass of red and the waiter sings her order back to her with awesome vibrato! This is a totally unique experience, and it's something that the special lady won't ever forget. These singers aren't too shabby either, they're some of the best performers in Madrid and judging by their superb waiting skills, they're also the most multi-talented!

As if the surprise of spontaneously singing waiters wasn't enough, the food on offer here is also absolutely delicious. You'll tuck into three courses of gorgeous food that'll be just as good as its musical accompaniment!

This is a fabulous way to add something a bit different and totally unexpected into your evening, and at the end of the meal you and the girls will even be invited to join them in song for a stunning finale.

Our Madrid opera dinner hen nights are essential for girls looking to give the bride-to-be a truly spectacular evening out. Tuck into a tasty meal, sip fine wine and have some quality giggles with the girls. Perfecto!