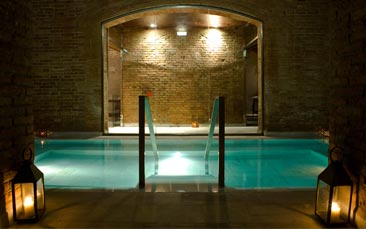 Oomph, last night was a bit heavy! You and the ladies are definitely feeling the after-effects of all that gorgeous sangria. While we here at GoHen never approve of drinking too much, we also don't think it's fair for hens to lose valuable time on their big weekend to the clutches of la resaca del infierno. (The hangover from hell).

So if you end up feeling a bit worse for wear on your Madrid hen party, a visit to the Arab baths could end being your saving grace. These baths take spa days to the next level, treating you and the girls to a range of relaxing spa pools that are sure to wash away any bad toxins that might be causing you trouble.

Immerse yourselves in Turkish baths filled with eucalyptus essence, you'll look and smell amazing after taking a dip in these waters, and that's only the beginning of your rejuvenating journey. You'll be soaking in thermal pools, getting thoroughly cleansed in hot whirlpools and opening those pores in a gorgeous sauna.

Try some relaxing aroma showers, rock and stone pools as well as a fantastic hot and cold foot bath. This is a spa experience that's exclusive to our Spanish locations, so you know that this is a totally unique opportunity to unwind and catch up with the girls.

Whether you're looking to shake off a hangover or you're just after a relaxing 90 minutes in these stunning pools built on top of a century-old well, the bride-to-be is sure to love this. Soon enough she'll feel all her pre-wedding stress wash away and you'll all leave this fabulous spa positively glowing and ready for the night ahead.