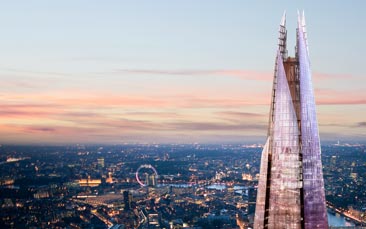 One of London's newest and most iconic structures this is quite possibly the finest view of the city of London and beyond with views stretching up to 40 miles on a clear day. It is most definitely the tallest view of London, the Shard reaches an incredible height of 800ft that's 244m or roughly 1109 champagne glasses tall (we did the maths).

It's approximately twice the height of any other vantage point in London. You'll have a 30-minute window to enter the Shard, however once inside there is no time limit to the length of time you spend enjoying the view.

At level 69, once you step off the "kaleidoscopic" lifts you can explore the incredible vista with the state-of-the-art, interactive touch screen telescopes that give information on over 200 landmarks.

You can then head up to level 72 which is the open-air platform and is quite literally a feeling like living in the clouds. However, we won't let clouds spoil the view. The Shard's promise guarantees that should you not be able to see at least 3 of the major landmarks (London Eye, St Paul's Cathedral, The Gherkin, Tower Bridge and One Canada Square) on the day of your visit then you'll be issued with a free ticket to be used within 3 months (you must contact a member of the Shard's staff during the day of your visit to claim tickets).

The Shard also has its own boutique with a selection of gifts including "Romeo the Fox", these stuffed toys are named after the wild fox who was found wandering around the upper levels of the shard during its construction. And yes, he's incredibly cute.

Why not also...?

If you are keen to tick off London landmarks from your bucket list, why not add other exciting activities to your itinerary, such as the London Eye, our High-Speed Thames Adventure or Climb The O2?

Please speak to your account manager for further details.