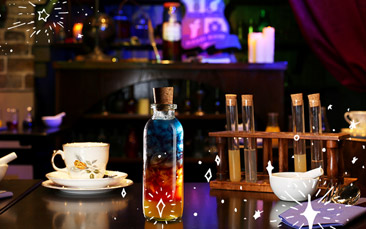 If the bride-to-be is a big Potter fan, then our hen party Potions Afternoon Tea activity will be right up her Diagon Alley. Why have a run-of-the-mill afternoon tea break when you can conjure up some magic and increase the entertainment with this enchanting spin on your hen party in London?!
Escape the hustle and bustle of the capital for an hour as you arrive at your venue and enter your potions class where you'll concoct your own drinks and enjoy a delicious meal. You and the girls will cloak up, snap a few selfies, and then take to your seats at retro school desks as a hilarious potions master helps you to mix your drinks and has all hens in stitches. To begin with, you will attempt to brew some Galaxy Juice which is made up of passion fruit, hibiscus and 'unicorn tear' tea. You'll then create other concoctions as you indulge in a delicious selection of afternoon snacks.
The Menu:
Galaxy Juice - Brew your own welcome beverage which is a blend of passion fruit hibiscus and unicorn tear tea
Hubble Bubble - A cauldron with a lemony potion
Selection of Sandwiches - Roast chicken, ploughman's, honey roasted ham
A Proper Pie - With creamy leek and potato filling
Yorkshire Pudding - With roast beef and horseradish
Rock Cakes - With clotted cream and handmade jam
Butterscotch Biskie - A unique creation with a delicious butterscotch filling
Knickerbocker Bite - An old-fashioned glory
In recent years, Harry Potter themed hen parties have been on the rise and here at GoHen we offer a number of different Harry Potter Themed Hen Parties that Potterheads will adore. Speak to a member of our friendly team today for more info about creating that amazing Potter themed weekend away in the capital.
Please note: As well as the standard menu there's also, vegetarian, vegan, dairy-free and wheat-free variations on offer. Notify a member of our team of your dietary requirements and we can forward the information to the venue.