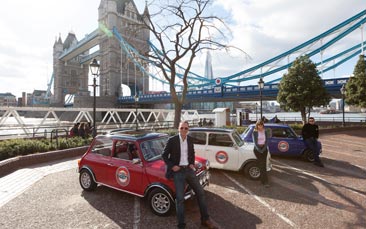 You've only got 48 hours in London, it's a hen weekend, there's just so much to do… Sing, dance, laugh, share a few drinks and you still want to get out and about and see some of this incredible, exciting and famous city. How can you squeeze it all in?
The simple answer is by all squeezing into these stunning and iconic cars (and don't worry, inside they're much roomier than they look). Minis are synonymous with swinging sixties London and these funked-up Mini machines have been given an automotive makeover so they're styled exactly like the famous cars in The Italian Job (Where Michael Caine uttered the immortal line "You're only supposed to blow the bleedin' doors off!"). This is 'cool Britannia' at its finest, the coolest cars, the most swinging hens and the greatest party city in the world. And the added bonus with Minis is they squeeze through gaps and can get to places the large coach tours can't make it.
And who wants to travel in a coach when you can see and be seen in possibly the coolest, best-looking cars ever created (sorry Micra, we love you, we're just not in love with you)?
Once everyone is sitting comfortably your experienced drivers will take you through the streets of London, the easy manoeuvrability and size of the Minis make them the perfect car for whizzing through London. You'll be zipping around through the smallest of streets to see the biggest and most famous sights with plenty of chance for photos and staying in the Minis you won't even need to worry about fighting through crowds of tourists, dodging selfie sticks or backpacks.
This really is a fantastic way to fit some sightseeing into your tight schedule and make the most of your time in 'the smoke' while feeling cool and looking funky. You won't even need to worry about the traffic as your drivers will take care of that so you can sit back and enjoy the ride. But whatever you do, don't blow the bleedin' doors off.