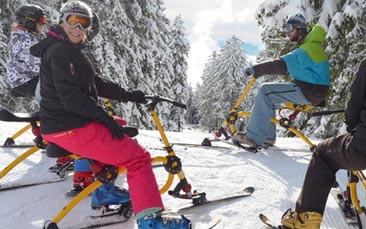 Have you always wanted to try skiing but can't actually ski? Or perhaps you're already a snow queen, expert on skis and snowboards but want to try something new? Then this is totally mad and definitely ideal.
Your session will begin with an English-speaking host picking you up from your accommodation at 3pm. You'll then take a scenic thirty-minute drive to the ski slopes. The team of instructors will greet you with a welcome shot to get everyone warmed up. You'll also be issued head torches (skiwear can be hired on-site) before some quick instruction. It really is like riding a bike.
Once all the girls are happy with the basics it's time to get out on to the slopes with your own ski passes you can ride the ski lift and head down the slopes as many times as you like. The bikes themselves are as you would expect, instead of wheels they have skis and no pedals as gravity will do all the hard work for you. There are also plenty of sledges to get out and see the simply breath-taking views. And at this time of the evening, the slopes tend to be a lot quieter, giving you more room to race down the slopes.
This is an adventure like no other and probably something none of the hens will ever have tried before. A whole new type of hen madness and laughs just waiting for you all to join in because that's how you roll… erm, we mean sledge. This is one of those incredibly bonkers evenings you'll talk about and remember for years and ideal to give the bride-to-be a really special hen weekend memory.
At the end of your session transport will be waiting to take you back to your hotel (10pm).