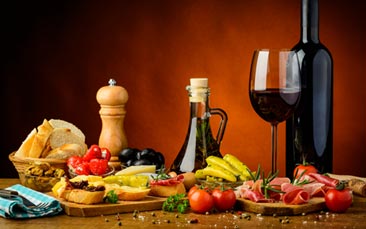 Sun, sea, sangria and sizzling seafood, the flavours of Spain are a fantastic addition to any hen party. Our Liverpool hen party tapas meal offers an evening of delicious food and Spanish culture - much to the delight of your bride-to-be.
Our hand-picked venue has been chosen because of its Spanish charm, dining culture, and vibe. Not to mention the fact it is a multi-award winning deli, bar and restaurant. Their deli boasts over 40 Catalan and Spanish cheeses and they promise to serve the best Spanish wine, sherries, and spirits.
Enjoy the taste of Espana, without actually having to board a plane! And it all takes place right in the heart of Liverpool so you'll be close to some of the UK's biggest and best clubs. You'll all have a delicious range of traditional tapas dishes to choose from, including:
Calamari
Chorizo in white wine
Patatas Brava's
Paella
Mixed olives
Albondigas
To make your lives a little bit easier, the food bill will be paid for beforehand so there'll be none of that awkward working out who had what. All you need to bring are healthy appetites and a little extra money to pay for your drinks. There will be plenty of food to go around, we are sure of it!
This is a fantastic choice for foodies or simply good friends. You'll certainly be sampling the finest and sharing loads of laughs in a really friendly venue close to biggest bars and clubs. Make a Liverpool hen party tapas meal the first choice for your big weekend.