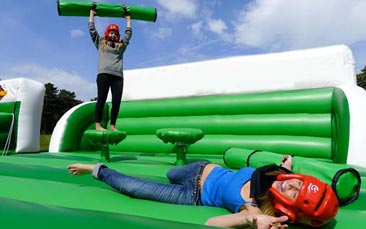 While other hens might settle for a day at a spa, eating cucumber and grassroots while being covered in seaweed slime, truly adventurous hens are preparing to do battle in hilarious fashion at our giant inflatable Scouse Challenge course.

This is non-stop, hilarious hen party madness and mayhem from beginning to end in a day that will have the girls giggling all the way to the Mersey.

The action begins as each team gets warmed up, fancy dress is hugely encouraged while many teams decide to opt for team T-shirts with their team name or battling slogans. The really friendly marshals will oversee matters and help keep all the teams in order, or at least they'll be trying their best to keep the water and foam flying in all directions, as you compete against other stag & hen parties.

You'll have a number of games to play:

The Grand National
A homage to the greatest horse race of them all... With 'Horsey Hoppers' !?!

Mathew Street Madness
A huge bungee run where the aim of the game is to get the pints of beer safely home.

Shoe Slinging
Love shoes? Love slinging? Then this will be right up your Scouse alley as you hurl shoes with extreme accuracy.

Penny (Bowling) Lane
This is a blindfolded bowling challenge where teamwork is an absolute must.

Duelling Scousers
It's a hilarious fight to the death/pub. You'll fight with huge pugil sticks to be the last hen standing.

The Derby
This is one challenge you'll need to put your weight behind as you put on huge sumo suits in a clash of the giant titans.

You'll Never Walk Alone
A three-legged race with a hilarious twist.

Ferry Across the Mersey
A classic tug-of-war with a special Liverpool twist.

Mersey Shower
Time for the bride-to-be to take centre stage as she's questioned by the rest of the hens to reveal the truth, the whole truth and nothing but the truth.