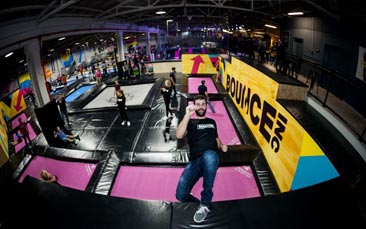 Our Lisbon hen party trampoline park is a perfectly timed throwback to those hot summer days spent in yours or a friends back garden, bouncing to your hearts content without a care in the world. This is your chance to re-connect with those happy days as you go wild on a massive indoor park where the floor is quite literally made of trampolines!
There's sure to be plenty of giggles here as you and the girls remember all the tricks and (if you're really good) flips you used to do in your carefree days of youth. Find out if you can still do them today on a variety of trampolines in the "jump zone", or take on a variety of bouncy challenges and games including:
The Wall - Bounce from the ground and grit your teeth as you try to run or flip on a large wooden wall. It's not for the faint of heart, but if you've got the skills this is seriously thrilling.
Big Bag - Flashback to the days where you could tumble like an Olympic athlete as you bounce down the track towards the safe landing of the big bag.
Super Tramp - Fly three metres into the air and perform amazing aerial flips on this large trampoline. This makes for a great photo opportunity!
Dodgeball - A fun and friendly hen vs hen game of dodgeball with the added boost of a trampoline playing area. It's a fabulous stress-buster for the bride-to-be…
Slam Dunk - You might remember classic 90s flicks Space Jam and Flubber, but this is your chance to see if you've got the bouncing skills to score a slam dunk!
Our Lisbon hen party trampoline park is an unusual activity that most of the girls won't have tried before but are sure to love as they release their inner 7-year old on this amazing indoor site. It's a wonderful way for the nearly-wed to unwind on her special weekend and an event that'll make her hen party stand out from the rest.
Why not add…
Upgrade to include a party host who'll show you around the park and how to get the most out of the range of trampolines and challenges!