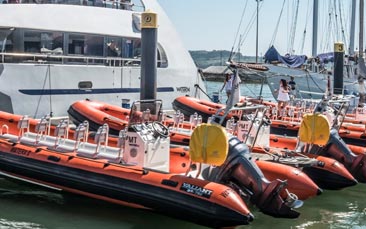 Looking for something a bit different from the usual hen party activities? Tired of dance classes, not stressed enough for a back massage, then how about flying down the Tagus River at high speed while a local pilot does his best to scare you all witless? Let's do this!!
Lisbon really is one of Europe's most beautiful cities and a great way to see it from the unique view point of the river.
These funky speedboats and dirigibles, better known as ribs. The outer wall is like a giant spacehopper and each rib seats 12 people (larger groups can hire multiple ribs). Behind the steering wheel an experienced pilot will show you just how fast and manoeuvrable these type of craft can be (they're used by everyone from coastguards and police to the SAS).
There are three cruises available for you to choose from;
Monuments - See Lisbon's most famous sights such as; Belem Tour, Jeronimos Monastery and St Jorge Castle.
Between the Bridges - high speed scream between the 25 Abril and Vasco da Gama bridges
Sunset Cruise - A fantastic and truly memorable way to bring a special day to an end.
Please note; This excursion is not suitable for pregnant ladies or anyone with a back complaint. If in doubt please speak to your doctor before booking this activity.