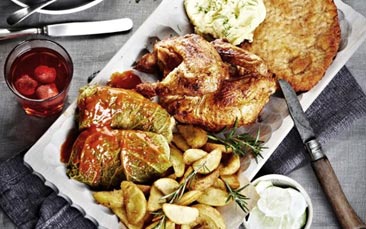 Two key things for a successful hen night, good food and no hassle. This fantastic and funky restaurant serves traditional food in a cool, laid back setting.
This is a way to get all the girls fed up (should that be 'well fed'?) and a chance to taste some Polish culture. And with everything planned in advance you can relax and enjoy the meal with the rest of the girls.
Your table will be booked and waiting for you and a friendly local guide will take you to the restaurant. Plus the bill is pre-paid so you won't need to mess around trying to figure out who has to pay for what. It's a set menu so all the hens will be served the same fantastic delicious traditional Polish dishes. And there's lots of it. These are big portions with two free beers each. Cheers!

The Menu
Starter - Braszcz soup, bread and pickles.
Main - Porkchop, black pudding, dumplings, cabbage roll with meat, potato pancake with veal goulash sauce, fried potatoes, salad all on one big plate.
Dessert - Apple pie with cream.
The Challenge

You can win a free vodka shot if you manage to clear your plate. But they are very big plates and it really is an awful lot of food. Still, nothing ventured and all that… "Hold my hair back, I'm going in!"