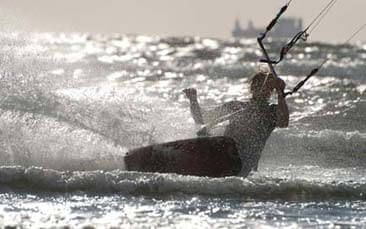 Fancy getting the girls involved with some wet and wild action on your big weekend? Our kite surfing will see the ladies hit the ocean blue in an extreme water sport that's become a smash hit with girls everywhere! This awesome activity is also exclusive to our Bournemouth destination, so you know you're getting a unique hen experience that you'll not forget any time soon!

Take to the waves on a surfboard with a twist, instead of riding the waves like a traditional craft; you'll fly through the water as you're pulled by a massive power kite. These awesome kites will harness the energy of the coastal winds to provide you and the girls with a white knuckle ride over the waves that's sure to thrill everybody.

But if that all sounds a little bit daunting to you, don't worry. Our experienced instructors will be on hand at all times to make sure everybody keeps having the most amount of fun possible. So even if you've never been surfing before, you'll soon be riding the waves like an absolute pro!

The bride-to-be is sure to have an amazing time as she learns how to use her powerful kite to control her direction across the water, and soon enough you and the ladies might even find yourselves attempting some fabulous tricks.

On your kite surfing hen party you're sure to have an absolute ball; this is amazing fun that'll get everybody boogying across the waves in no time!