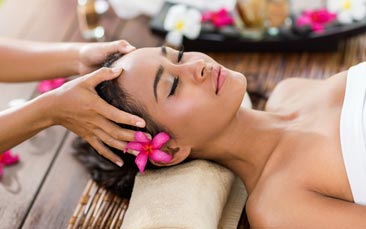 You're sure to be getting up to all sorts of bridal madness and mayhem on your big weekend away. But don't forget, one of the best things about a hen do is that it helps the bride-to-be relieve some of her pre-wedding tension. So it'd definitely be a good idea to find some space to enjoy a luxury Indian head massage, which uses traditional techniques to completely purge you of stress in moments.

So if your bride-to-be is on the verge of strangling someone with several miles of bridal bunting, give her the gift of this luxurious spa treatment. This exquisite massage focuses on relieving stress and pressure points in the neck, shoulders and head, getting rid of any tension you've been carrying.

As well as being a fantastic way to feel relaxed and rejuvenated before heading out for an evening of hen party frolics, this is a great opportunity to bond with the girls. Our expert masseurs practise these ancient techniques in a wide variety of locations. So whether you're spending a weekend in Manchester or Maribor, you know that true relaxation is never far away.

Our Indian head massage provides a wonderful range of benefits. As well as relaxing your mind and making you feel serene and peaceful, they're perfect for relieving eyestrain, concentration levels and anxiety.

If you're looking for some high-quality spa treatments on your hen weekend, an Indian head massage is a one-way ticket to a paradise of relaxation. So make a commitment to your feeling of wellbeing, and ensure that you head off for a fabulous evening on the town feeling confident and worry-free!