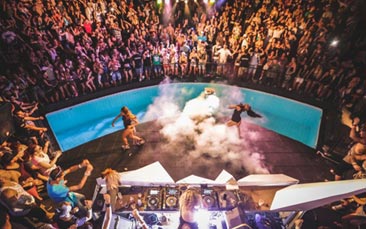 There is nothing else on the planet like The Zoo Project. Cool, funky and totally in its very own unique and special world. Love, music, art and the environment combine in one of the best party experiences known to hen-kind.
You'll meet at a bar with free drinks before jumping on party buses to a stunning park and the former zoo. Here the old enclosures have been converted into dance and performance spaces.
Expect the unexpected…
Seal Pit Circus Takeovers
Butoh Panthers
Mad Hatter Tea Parties
Capoeira Clowns
The Crazy Bird Lady
Unicycling Gorillas
Butterfly Chasers
Acrocats
The Zoo Movie Experiment
And more madness
At the end of the night (midnight) you'll get access to the legendary superclub Sankys.
"The Zoo Project is a place where we are all equal - whoever you are & wherever you come from - we are all one, communicating and expressing ourselves through music and dance. It's a place where you can lose yourself and find yourself all over again in an instant, set to an unforgettable soundtrack."
Your dancing will help protect the environment
The Zoo Project supports the Nature Project by raising funds and awareness to protect marine life around the island and other conservation projects around the world.