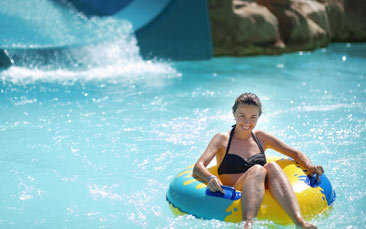 There are some indisputable and certain facts in life that we are all too aware of here at GoHen HQ. Namely, there's always more toothpaste in the tube, new shoes will pinch your feet only AFTER you've bought them, it will always rain just after you've straightened your hair... and water parks are amazing fun no matter what age you are!
If you're looking for the perfect wet and wild day out, our Ibiza water park is definitely for you. It's a fantastic day activity that compliments the huge nights out and it's a great way to cool off in the hot temperatures. Whether you decide to chill out on a parasol, taking casual dips in and out of the fresh pool waters, or alternatively, throwing yourselves down some of the best water rides in the Balearic islands!
On your water park day, you'll find yourselves taking on some seriously thrilling rides like 'The Kamikaze', 'Black Hole' and the crazy 'Twin Twister'. You'll need some serious nerve to master this amazing water park, but once you do you're sure to feel really proud of yourselves, plus you'll have some fantastic stories to take home with you!
It's fair to say that after all that stressful wedding planning, the nearly-wed is well due some fun and shenanigans where she can really let her hair down and just forget about being an adult for the day. With a fabulous cafe on-site to provide some tasty and refreshing treats, as well as some massive rides, there's enough going on here to keep all the girls giggling, all day long!