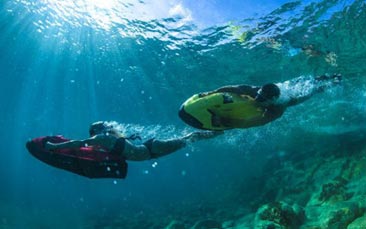 If you're looking for something totally different that sums up the bride's adventure-loving side, then this is most definitely it. You'll soon be gliding through the water like funky, sun-kissed, hen party mermaids (do mermaids have hen parties?).
For those of a technical bent, Seabobs have an electronic, jet-powered, battery-driven and Porsche designed software. They can push through the water at a force of 680 newtons and are really simple to steer and control. They have two handles containing all the controls, either side of the aqua-dynamic bodies. These mini and really cool-looking submersible machines take you under the waves, gliding through the water like a fish. You can even use your body to help steer you for maximum speed.
It's the kind of machine that James Bond would love, but tough luck because the girls are in charge now and we make these Seabobs look sexy! The manoeuvrability is amazing, allowing you to twist, turn and glide through the water like seals. You can also explore the amazing marine life which thrives in these warm waters. You'll see very different and more vivid fish then you'll see back in the UK, the water visibility is much better too. It's the perfect way to create totally different hen weekend memories for the bride to be and all her guests.