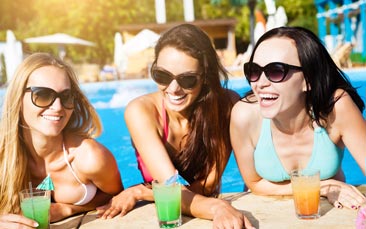 Ibiza is, without doubt, the coolest place to party in Europe. And that isn't just at night.

The hottest of Europe's bright young things all head to this jewel in the Mediterranean to enjoy the best of the beats and Iberian sunshine. At night the beach bars are huge party havens but by day they are slightly more subdued but still very much the place to relax, see and been seen.

Our tropical Ibiza beach club is the ideal way to spend an afternoon with your girls, with a choice of six bars within this remarkable venue. It's the perfect place to chill for a few hours, whether you're seeking sunbathing and rest while sipping on a freshly-squeezed juice, or you want to start the party early in the Balearic sunshine. Sit by the pool, soak up some Vitamin D and refresh in the cool waters.

The pools are surrounded by huge day beds and stunning sunloungers, you'll also find restaurants, a boutique and can also get a poolside massage.

But of course, this is Ibiza so there is still good music and great drinks to sample. After weeks of heavy and often stressful wedding planning the bride-to-be is quite possibly in need of a little R 'n' R. While Ibizan nights are all about R'n'B, the days can be dedicated to resting sore heads and topping up tans ahead of the big day. The fact that you're opting to do so in such sumptuous surroundings is just a mark of ladies who truly know how to party and exactly where to kick back and chill.

The venue also hosts regular 'Champagne Spray Parties' if you're feeling truly decadent. Prices vary for these so please speak to our team for more details.