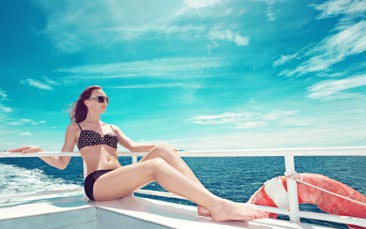 Take a laid back boat trip to this jewel of the Mediterranean. Formentera is a must-visit destination for any holiday in Ibiza, whether it's for a relaxing change of pace to the exotic nightlife or a hangover friendly daytime delight. With its natural mud baths and utterly divine sandy white beaches, Formentera is the island of a hen's dreams.

Get together with the girls for a fabulous day trip to this tiny island. Board our Ibiza hen party boat and enjoy a relaxing 35-minute cruise from Ibiza to Formentera with stunning views of both islands; perfect for some memorable hen group selfies. Once there you'll have all day to enjoy the island, away from the busier family beaches of Ibiza. The pace in Formentera is a little more tranquil with stunning vistas of sandy white beaches and sapphire water to dive in and cool off.

You'll also find plenty of craft shops and trendy little boutiques to pick up little gems, leatherwork, bags and shoes. There are also plenty of bars and restaurants that ensure you won't be short of places to soak up the gorgeous island atmosphere; the locally caught seafood is second to none. Getting around is simple too, as most of the island is accessible by bicycle or moped, both of which can be easily and affordably rented upon arrival.

It's up to the girls how you spend your day in Formentera, with boat trips running from late morning until early evening, you'll have enough time to see the island and enjoy all of its charms. Whether you're looking to track down the natural mud baths for some quality rejuvenation or take a dip in the pristine coastal water before sunbathing on the shimmering white beaches, Formentera is relaxation heaven.