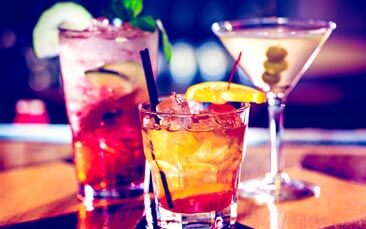 So you think you know your mojitos from your manhattans? Well, it's time to put your taste buds and shaking skills to the taste.
You've all heard of the Great British Bake Off, well we like to think of this as the Great Hvar Shake Off. A professional mixologist will show you all the tricks of the trade and how to mix a selection of classic cocktails. The session will start with a welcome drink, then the real business begins, as you're shown each drink it's your job to recreate it in your own glasses. Of course, it's vital you taste your drink as you work, purely for 'quality control' purposes of course.
At the end of our Hvar hen cocktail mixing session, you can stay on in the venue and enjoy more fabulous drinks as your own barmen will be on hand to keep serving you more fabulous cocktails (just £4 each!).
This isn't boozy good fun but you'll be learning practical/vital skills to take home. It's knowledge you can put into good use at your next BBQ or dinner party. Or better yet make cocktail Thursdays the new lunchtime craze at work ("Well we were going to do a stocktake but seeing as it's cocktails Thursday..."), you'll be the new office hero.
Best of all our Hvar hen party cocktail making is just brilliant fun and something all the girls will really enjoy whether it's because they crave new skills of tasty cocktails.