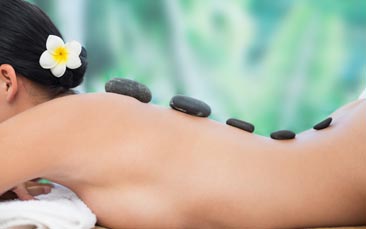 Ease away the aches and pains from a heavy night out with this perfect hen detox that the girls will love from start to finish. With the guidance of a professional therapist and hot stone masseuse, you'll be taken to a world of heavenly hen bliss as soothing hot stones and oils unburden your every tense muscle and joint.

You and the girls will arrive at the spa and meet the expert therapist who will first explain the procedure to you and then allow you all time and space to change into robes and towels and lie down ready to receive your soothing hot stone massage.

Whether you're looking for a day of ultimate hen relaxation or a much needed post night out remedy, a hot stone massage is what every hen needs!

The nearly wed will be able to escape the worries of embarrassing speeches, seating arrangements and table decor for a while as she floats away to a place of perfect calm and tranquillity. The healing hands of an expert therapist will leave all the hens feeling fabulous in no time at all.

Get back to yourselves after a huge night out on the town and leave the bride-to-be feeling refreshed and ready for her big day with our hot stone massage activity!