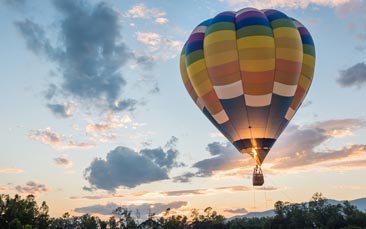 If you're looking for a hen activity that will not only take all the hens' breath away but give them memories that will last a lifetime then our hen party hot air ballooning will be one huge tick on everybody's bucket lists.

You'll enjoy an hours air time up in the tranquil and peaceful skies over your chosen destination. This is most certainly the place to get amazing hen party photos to make all your social media followers hideously jealous and also get a huge hug from the nearly wed for giving her such a thrilling day out. Each hen will get a certificate of their flight, signed by their pilot.

And what a flight it is! As well as the incredible views and serene beauty of the flight itself, in terms of thrill factor, the sky really is the limit. Flights will usually reach between 500 and 2,500 feet - and where allowed, the pilots skim the treetops or climb to over 3,000 feet!

We suggest you dress for the weather and also a hat or cap can be handy to protect you from the heat of the burners. And don't forget your cameras.

As part of the flight, you also get to join in with the pre-flight preparations and post grounding of the balloon which gives you an even better sense of just how huge these magnificent flying machines are.

The gentle experience of floating, level with clouds as the breeze lazily carries you along enjoying the simply wonderful views, is the perfect relaxing antidote for the nearly-wed after weeks of sometimes stressful wedding planning. Looking down on chocolate box villages, the patchwork of fields and crops, teeny tiny cars and the world going about its business as you feel strangely removed from it all. Hot air ballooning has been described as a brief out of body experience where you feel time slow down as the rest of the world carries on speeding by below you.

So why not relax, taking things easy and create incredible hen party memories that will last a lifetime.