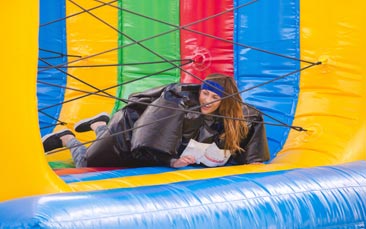 Remember all those girls who were great at school sports day and took it way too seriously...? Well, they'd hate this!
The best way we could describe it is if someone were to get hold of the Olympics or World Athletics Champions and decide what they need is more inflatable obstacles and bizarre props, then this is what it would look like.
You'll be competing against other groups with no more than 10 players per team and 16 teams.
The Limpic Arena is split into 4 zones each with totally random games such as;
Giant Egg, Spoon & Sack Race
Caterpillar Archery Relay
Foot Darts
Bungee Spider Web
Dizzy Assault Course
4 teams will enter each zone and battle it out for maximum points before moving on to the next zone. At the end of the session, all your points will be added up.
For the second session the top 4 teams will compete in group 1, the next 4 in group 2, etc. that way all teams get to compete against teams of similar ability and still stand a chance of winning the title.
Of course, there can only be one overall winner which will be decided in the grand finale.
Now get out there and make us proud of you! No? Ok. Then get out there, laugh like drains and compete like the loons you are. Game on!