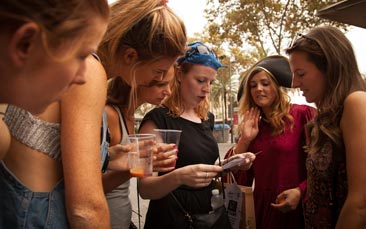 Our hen party City Treasure Hunt will pit you and the girls in a race against both time and each other as you take on a load of head-scratching clues, challenges and puzzles as fast as possible! You'll split off into two teams and nominate a captain who'll download a specially designed app onto their phone or tablet using the latest smartphone tech.
Then, with the added S.A.S.S brought by your crack team of hens, you'll be led by your brain-teasing app on a hunt around the city. You can expect your treasure hunt to take you to some of your destination's most famous, iconic attractions. Once you're there, you'll take on some mind-boggling (and often hilarious) challenges and puzzles.
But don't take too long, the clock is ticking, and your rival team won't be too far behind! You may be able to crack codes and unriddle riddles, but it's not so easy to get your brains ticking when you're trying to beat the clock. You'll need all your Miss Marple intuition and quick-thinking to suss out the clues that'll eventually lead you to the finishing line!
And if racing against the clock isn't enough to get your adrenaline pumping, you'll also get a live scoreboard to track how far ahead (or behind) you are from your opposing team. But don't worry, we understand that this can turn into thirsty work, so you might be able to find time to stop for a refreshing cocktail along the way.
If the bride-to-be is a fan of Eggheads, Sherlock Holmes or The Crystal Maze, she'll love this outrageously entertaining treasure hunt. It's also a fantastically fun way to break the ice and get everyone working together as they race around the city like headless hens!