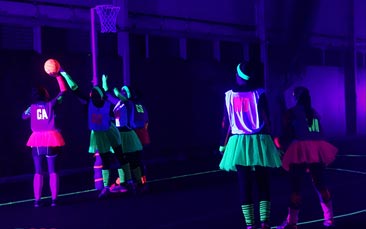 The big day is nearly here. Everyone wants to look good and feel fab so why not arrange a hen workout with a difference. It could be the perfect antidote to the extra cocktails and hen dinner of the night before.
This fab sports session takes place in UV lighting, everyone looks good in UV lighting. You'll be greeted by a friendly instructor before all the hens are sent to get changed. The girls will need to wear something colourful (black is an absolute no-no). You'll also be given UV bibs which glow under the special lighting.
Back on the court, bibs in hand you'll decide your teams and get your games faces on. You can also engage your opponents in some smack talk "Glow, rimes with 'slow' because that's the way you go!" Although please try to sound less embarrassing than that. Your instructor will also act as ref and can go through any rules for you. Once the ref blows their whistle the fun begins as you battle for victory. Although make sure you keep things friendly, we know how competitive the bride-to-be is but that doesn't mean she can body slam her opponent just to claim the win. The pitch will also be specially marked, so you can see exactly where you're going.
There are three games you can play. You can have a mixture of all three or just pick out your favourites. It's sports with a great twist and a fun way to share some laughs in an active environment.