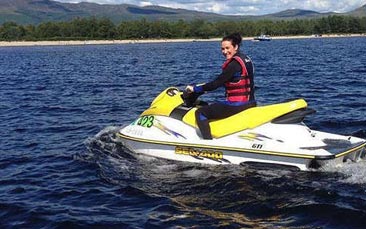 This is fast-paced hen party fun of the highest order and a real thrill ride for any hen party looking for a new and exciting hen party experience!
You'll head to the stunning Loch Lomond, one of the UK's most famous waterways where you'll be met by our team of expert instructors. They'll help you get kitted up with wetsuits, gloves, boots and lifejackets (get ready for some hen party selfies and team photos). Once you're all kitted up you'll get some quick safety instruction and learn how to control the jet skis before hitting the water.
It's then time to get all at sea as you cruise this fabulous waterway. The views are stunning and there is plenty of chance to see some of the incredible wildlife that lives within the Loch Lomond National Park. Whether the loch has its own Nessie is not known, well, no one has seen one... yet.
As well as mastering the basic riding skills to master your marine machines, the instructors will be happy to teach you to stunt moves and tricks to really improve your jet ski skills. The tour is around 1 hour of high-speed thrills and spills you'll be talking and laughing about for days.
Did you know...
Loch Lomond has 92,805,000,000 cubic feet of water.
A new species of plant unique to the area was discovered in 1963. It's not known how no one had spotted before then as the 'Loch Lomond Dock' grows to a height of two metres!
One of the loch's islands is home to a nudist colony although it must get a bit nippy!
Hidden, illegal whiskey stills on the loch's islands produced around 100 gallons of whisky a day at one point.