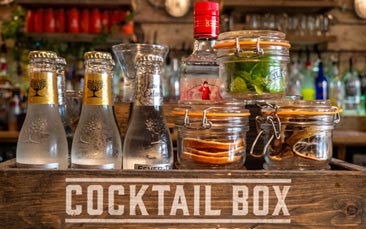 This is a simply fabulous way to get any party started and ideal to get all the hens laughing, smiling, and yes, doing a little bit of drinking.
You'll have guest list entry to a top venue with a cracking atmosphere and top tunes. Once inside a reserved area will be waiting for you. And here you'll be given your gin party box which will contain speciality gins, mixers, ice, and garnishes. You and the girls can then have fun trying the various different gins and getting your party started!
Gin Facts
Gin is believed by some to originate from Holland.
Hence the phrase 'Dutch courage'.
But it's actually an English invention.
Due to poor sanitation, gin was once cheaper than water in most UK cities.
In 1726, London alone had 1,500 working stills and there were 6,287 places where you could buy gin.

In 1721, Britain consumed a whopping 3.5 million gallons of gin!!
It's also known as 'Mother's ruin'.
The Philippines is the highest gin consuming country (almost half of all gin is drunk there).
Gin was traditionally accompanied by... Gingerbread.
London gin isn't made in London, it is simply a style of gin.