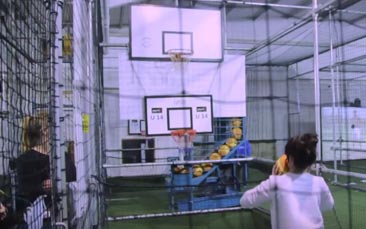 If you're looking for an active hen weekend challenge that will have all the girls laughing and competing in great sporting style (well, kind of) then our Galway hen party ultimate sports challenge is a grand slam!
The action takes place in a 20,000 sq foot indoor automated arena so even if your shots are going a little wide of the mark you shouldn't hit any stray by-standers. In all we have 10 superb sports for you all to compete;
Baseball
Cricket
Basketball
Rugby conversions
Gaelic free kicks
Golf putting
Golf chipping
Tennis
Hurling
Football penalties
The premise is pretty simple, each hen will have a scorecard with a potential total of 100 points, you can score a maximum of 10 points on each separate event. At the end of the challenge the hen with the most points will be the winner!
There's plenty of room for grudge matches along the way as you see who wins each individual challenge. We do of course hope everyone plays fair... except when no one's looking in which case cheat like Lance Armstrong in a yellow jersey (allegedly).
While we can't promise sporting greatness (unless the Olympic selection committee just happen to walk past your Galway hen party sports challenge and decide you are the next big thing), we can assure you there'll be lots of fun, laughs and fierce rivalries to keep everyone giggling. In fact it's more difficult to stop laughing so you can concentrate on the job in hand. You go girls!
So get those game faces on and may the best hen win!