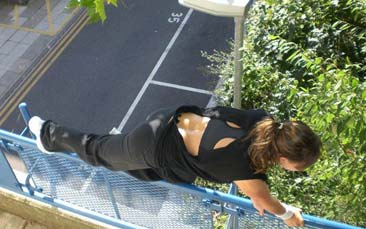 We've all seen it in movies and on TV, those cool looking guys and girls leaping from building to building, charging through urban cityscapes, bouncing and swinging off lampposts, street signs, and any other surface they can. At times it looks like a really extravagant game of off ground tag, at others, it is breathtaking and almost balletic in its poise and grace.

Well, now you can try your hands at this incredible high adrenaline extreme sport that is gaining more and more fans and followers. Our expert guide will teach your party a few basic moves to get you all started, you'll then work over a series of obstacles to perfect the skills of a modern street-smart urban gymnast.

For the completely initiated, free running (or "Parkour" to give it it's French name) is a street sport started in the inner streets of Paris. The aim is to traverse the streets using the most creative, flamboyant and often dangerous route possible. Protagonists opt to use benches, railings and all manner of street furniture rather than the pavement. Walking, it would seem, is for wimps. Many free runners have gone on to careers in movies as stuntmen.

One thing you can be sure of is a fantastic work out as the activity requires a lot of work on your inner core and muscles you won't even know you had. You should be prepared for a little ache the following day but that burn feels good and is a sure sign of the good an afternoon of free-running has done you!