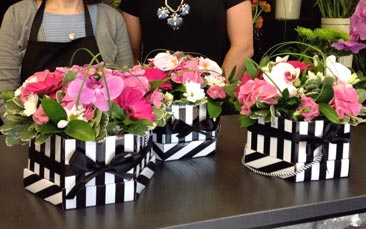 Green fingered hens can now get creative on our fantastic hen party floristry workshop which will get you exercising your own artistic muscle as well as teaching you all kinds of techniques. But this isn't your average instructor, you'll be learning from a master florist who is a three time RHS Chelsea flower show gold medallist. For the non-horticultural, that's the equivalent of winning the Olympics... three times!

During the session you'll get to enjoy a fantastic class which can either be purely informative, or for the competitive among you, we'll split you up into teams, with each team working on their own creative masterpiece. At the end of the session your creations will be put before a panel who'll decide the winner.

As well as learning from the expert, you'll be able to ask any questions or pick up tips on what to grow in your garden to create your own pieces, or ask how to make a wedding bouquet (or maybe where to stand in order to catch the bouquet?). You'll learn how to make truly spectacular arrangements while working with the best blooms.

And if that wasn't enough... You'll also get to take your creations home with you. This is a wonderfully enjoyable class which will allow you to take home plenty of ideas, tips and creative inspiration/knowhow for you to continue making wonderful arrangements long after the workshop has ended. You'll also know exactly which blooms to plant in the spring to get working on your own pieces, fresh from the garden.