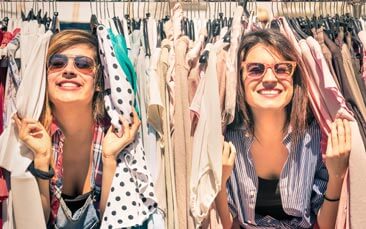 Got a passion for fashion or do you feel like a disaster in the dressing room? We've all been there, you just can't figure out what looks good, and what looks like the type of thing that would make poor Gok Wan shake his head in sheer desperation. With our hen party fashion consultant, you'll never worry about style again as you learn all about what looks best on you.

Whether you're clued up on the latest trends or not, soon you'll all be totally in the know as you'll be given three masterclasses on your fashion consultant experience. You and the girls will get some top tips on makeup, the colours that suit you and how to capture that effortless style we're all after!

As you enjoy these amazing classes, you'll be given advice on how to combine colours and makeup to find the best outfits for you. Gone are the days of trying on five different outfits in Topshop because you can't decide which looks best, our consultant will have already clued you in!

This will have you giving all your best friends wardrobe envy in no time whatsoever. During your tailor-made session, you'll be able to ask any style-related questions you can think of. So say goodbye to all those fashion worries and feel confident in your own style, as you get the kind of advice usually reserved for celebrities!

This is perfect for a bride-to-be who loves clothes and wants to find out which colour suits her best! But don't worry, when you're in a wedding dress as beautiful as the one she'll be wearing, white suits any complexion!