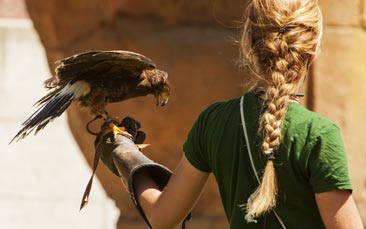 Sure to be a hit with any bride-to-be who watches Countryfile week in week out, falconry gives your nature-loving girl-gang a chance to see some of nature's most beautiful creatures for yourselves. This is a unique hen experience that most of the ladies won't have expected, but they're sure to leave totally impressed with what will be a great session of falconry fun!

You'll be able to see a wide variety of birds during your session, including quiet and unassuming owls that wouldn't look amiss in a Harry Potter film to some majestic eagles that are seriously stunning once they're flying through the air at full speed.

This experience is completely interactive. Your group will be exploring natural habitats as well as getting hands-on with these beautiful birds. Don that fetching glove (it's just a big oven mitten, really) and call these fantastic winged creatures to perch.

Falconry is great for hens who love their animals, and this is truly the best way to see these birds, in the wild and in their own habitats. You're all sure to be amazed as you get to see these trained predators soar in and out of the trees as you study their exciting hunting techniques.

So if you're looking to escape to the country on your hen weekend, even if it's just for a morning or afternoon, hen party falconry is perfect for you. It's a relaxed but totally involved experience that'll give all the girls a chance to try something new and have a big ol' laugh while they do.