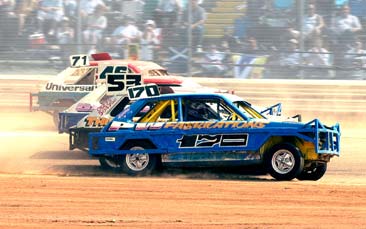 Have you and the girls ever been on fairground dodgems and thought, 'this is great, but wouldn't it be better if these were massive?'

Well, GoHen is about to treat you and the girls to some epic hen party extreme dodgems. These are like dodgems, if by dodgems you mean huge 1300cc saloon stockcars that will literally chew up any terrain you point them at.

We all know that us girls can build up a serious amount of road rage in a traffic jam, well now is the time to allow all that stored up anger to safely exit your body in a full-on, high adrenaline day of racing that is probably going to be totally unlike the girls have ever done before.

Seriously, this is fantastic fun. There'll be commentators providing some hilarious banter between races and as you power through this purpose-built track that is even used for championship events when this activity isn't running.

You and the girls will get the complete race day experience. Featuring practise laps, heats and a championship final that'll get everybody racing to crown one lucky hen as your hen party's queen of speed!

Extreme dodgems will then end with the ultimate climax, an epic final showdown between four winners of championship finals that could see your hen champion take the ultimate racing crown!

This is a fantastic day for hens who want some unique, thrilling motorsport action on their weekend that is sure to get all the girls laughing and smiling. The bride-to-be will show everyone her racing skills, and if all else fails just remember, like normal dodgems, there's no shame in scratching the paintwork a little!