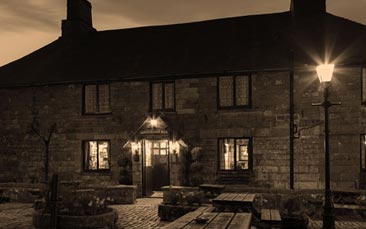 There are few sites in the UK that conjure up quite so many visions of ghostly goings on as Bodmin Moor. It's one of the many reasons this is the perfect spot for a haunted hen weekend as you stay in an old smugglers inn that was in an episode of the TV show that the production team described as one of the spookiest episodes they ever recorded.
This famous inn dates back to 1750, the setting of a famous novel by Daphne du Maurier the site has been rife with tales of spooky occurrences through its rather gruesome history which includes the inn's use as a meeting point and hideaway for smugglers. Over recent years it has attracted many groups of paranormal investigators including The Ghost Society but no one has been able to fully explain many of the ghostly goings on:
The sound of horses in the cart yard
Footsteps in the corridors
'Foreign' voices in whispered conversations
Not forgetting the man in the tricorne hat and cloak who appears and then walks through solid doors?!?
During the weekend you'll take part in ghost hunts, séances, glass moving, Ouija boards as well as visit the spooky Bodmin Jail.
Unfinished drink...
One hardy drinker was summoned outside leaving his half-finished drink on the bar... he was found the next morning dead on the moor. His assailants were never caught. But some say the sound of footsteps often heard in the pub is the stranger returning to finish his drink.
The thick fog which often creeps over the moor and tales of visiting pirates have given the inn a colourful history with wild stories in abundance. So much so that even the legendary spooky movie maker Alfred Hitchcock made a movie here.
If the hens love occasional thrills and chills or are fascinated by most haunted buildings this could be the ideal location for a real hen party with a difference where the only screams you'll hear will be screams of laughter... we hope!?!