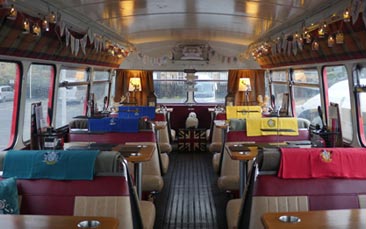 Whichever way you view it, Edinburgh is a magical city, but for Harry Potter fans it really is the beginning of the whole adventure and something not to be missed.
You might well know the story of how a non-published, want to be, author/single mother took the stories she told her children and turned them into a global phenomenon that inspired so many children around the world. If you're quite possibly a huge fan of the books and movies yourself, now you can discover exactly what inspired JK Rowling in the city she loved and called home when she first started writing the books.
The fun starts when you board a vintage London Routemaster bus, as featured in Harry Potter and the Prisoner of Azkaban. A fantastic wizard guide will welcome you aboard the bus that is decked in all kinds of Potter-phernalia and will tell you all kinds of Potter and Rowling facts and trivia.
During the tour you'll be served a delicious afternoon tea which includes;
Sandwiches
Cakes
Savouries
One cup of I-Can't-Believe-It's-Not-Butter-Beer
Unlimited tea and coffee
There's also a bar on board serving wine, beer, soft drinks and water.
Dietary requirements can be catered for.
The route will take you to some hugely significant parts of the city visited by JK Rowling when she lived in Edinburgh that possibly helped shape the stories.
Spoon Cafe - Where the first book Harry Potter and the Philosopher's Stone was written.
The Balmoral Hotel - Where J.K. Rowling finished Harry Potter and the Deathly Hallows and home to the J.K. Rowling Suite.
Greyfriars Kirkyard - Churchyard that may have given JK inspiration for character names (like the tombstone of 'Tom Marvolo Riddle'... evil Lord Voldemort?).
Victoria Street - Believed to be the inspiration for Diagon Alley.
George Heriots School - Built in 1628, this orphanage and charity school for boys with its turreted towers possibly seeded the original idea for Hogwarts.
Elephant House Cafe - Where later Potter books were penned.
The Meadows - Somewhere the Holyrood Hippogriffs might well practice quidditch.
Potterrow - Where the Potter name was born?
Edinburgh Central Library - Well it's a library. Likely somewhere Rowling visited for research.